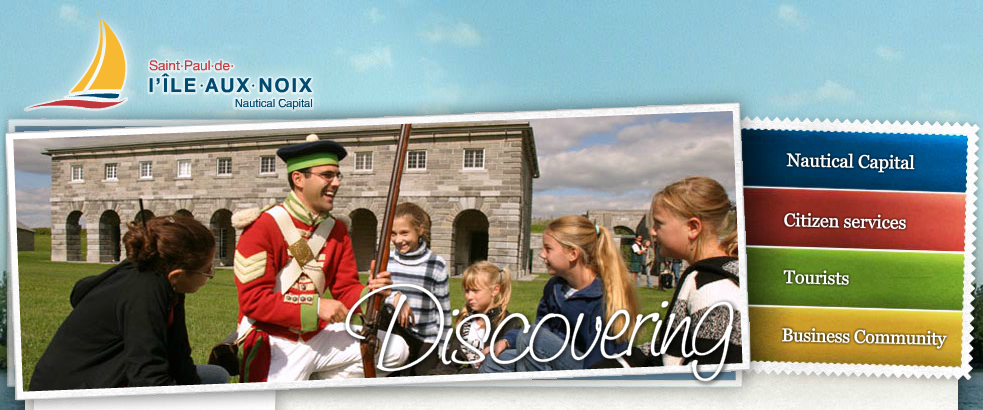 Newsletter

History
The very first inhabitant
In 1753, Pierre Jourdenet, an ex-serviceman from the Compagnie De Lorimier was the first resident of Île-aux-Noix. The name originates from the annual instalment Jourdenet paid up to the Seigneur de Noyan, a payment that consisted of a bagful of nuts from the hazel trees found on the island.
Origins
There was a time when the Richelieu River was the only route to the land now known as Saint-Paul-de-l'Île-aux-Noix.
On July 3 in 1609, Champlain took this route, as he passed by Île-aux-Noix in his wood canoe in the company of two Frenchmen. He navigated as far as Lake Champlain, to which he gave his name. The lake is a remnant of the sea of Champlain that covered all of the Laurentian plain during the last ice age.
In fact the Laurentian plain, a depression caused by the glaciers weight some thousand years before, had then been submerged in reason of the sea-level rise due to global warming. It slowly rose back, liberated from the glaciers weight, draining itself allowing wildlife and flora to breed and grow. It is assumed that the Richelieu River was created from the withdrawal of these waters.
Pleasure Boating and Yachting
Both Île-aux-Noix and the Richelieu River are credited for our municipality's touristic and nautical role.
In 1899, Captain Ben Naylor from Noyan rented Fort Lennox in order to bring tourists. On Saturday afternoons at 3 pm, his steamboat, The Majestic, would take passengers from Saint-Jean, make a stop at Île-aux-Noix, where tourists could have a meal and cool drinks, then to the Lacolle Bridge, all this for a mere $0.40, round trip.
Although, back then most of Saint-Paul-de-l'île-aux-Noix' inhabitants lived off agriculture, you could feel that a future vocation was awaiting our municipality: becoming Québec's Nautical Capital. Proof of this can be found in a copy of the Canada Français dating back to August 3, 1900: "One day, Saint-Paul-de-l'Île-aux-Noix will be one of the most important water location in the Province of Québec."